We are going back to Sardinia for our 11th High Point Yacht Fest! However, for the first time, the event will be out of Cagliari! There is a great excitement about the new area. Our local partners are Cagliari Sailing, welcoming and knowledgeable team.
Event dates are 28 September – 5 October 2019
View our HPYF 2019 fleet, Cagliari, Sardinia.
PLANNED ITINERARY:
28 September – Check-in at Portus Karalis Marina – Welcome Party
29 September – Bay of Nora
30 September – Porto Teulada
1 October – Porto Pino
2 October – Carloforte
3 October – Tuerreda Island (for Roux Gourmet Night)
4 October – Portus Karalis – Prizegiving dinner
5 October – morning disembarkation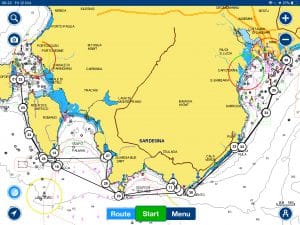 Registered skippers:
John Hall Hall – Bavaria 51 Cruiser 'LISCIA RUJA' (RABBIT BOAT)
Keith Hale – Dufour 512 'KAL'E MORU'
Carolyn Krijsne Locker – Bavaria 51 Cruiser 'MEDITERRANEA' (HPYF 2018 WINNERS!)
Dave Brewster – Bavaria 51 Cruiser 'SILKWAVE'
Steven Visser – Bavaria 51 Cruiser 'TABARKA'
Jakalyn James – Bavaria 51 Cruiser 'MARI PINTAU'
Colin Ford – Bavaria 51 Cruiser 'PAN DI ZUCCHERO'
Denis O'Brien – Bavaria 46 Cruiser 'MASUA'
John Yates – Bavaria 46 Cruiser 'TUERREDDA'
Important dates:
19/11/2018 Destination announcement – CAGLIARI, SARDINIA
19/11/2018 Entry list open
28/09/2019 – 05/10/2019 – HPYF 2019, Cagliari – Cagliari
For more information and if you would like to participate in our HPYF regatta, please contact: sasha@marmontyachting.com